History of the Palace Theatre
(written by Bonnie Holmied Jordahl and published in "Herman's Palace" through 1989, updated by Heidi Sehr with the assistance of BMAT Board Members and Historian, Betty Mann through the current years)
In September of 1915, Herman Jochims opened his brand new Palace Theatre in Luverne, MN. Movies had arrived as the new entertainment element, but vaudeville and touring repertoire companies were still important. Herman built the Palace for both. The dressing rooms were ample, the light board was new, and all the 450 seats had good visibility for the stage and movie screen. The town, as well as Herman Jochims, was proud of the new Palace Theatre.
The formal opening of the new Palace Theatre took place on September 29, 1915. The opening attraction was a fantastic comedy called "The Prince of Tonight". It was presented by a company of 35 people of recognized ability. The ensemble brought along a special carload of scenery plus their own accomplished orchestra. Following this spectacular opening, regular movies were shown every evening thereafter.
In 1926, a superlative Geneva console pipe organ was installed in the theatre. Herman Jochims' wife, Maude, played the organ between the 7:30 and 9:30 shows every evening and on Sundays during the matinee and evening shows. She was an accomplished musician and added much to the Palace programs.
In 1945, the Palace Theatre was completely redecorated. It was already known as "Southwestern Minnesota's most beautiful movie house". After the new interior decorating was finished, it again was known for its beauty and style. Harold Larson & Sons interior decorators from Minneapolis were hired to revamp the complete interior in the then new Art-Deco style. The theatre was closed for eight weeks to make this transformation. It opened again on April 12, 1945.
On November 19, 1978, the Palace Theatre was placed on the Register of National Historic sites. In 1980, ownership of the Palace Theatre passed into the hands of a community organization known as the Blue Mound Area Theatre, Inc. As a non-profit group, it is was made up of interested and dedicated Rock County people and its membership was drawn throughout the area.
44 years later, in June 1989, the theatre was again redecorated in the same Art-Deco theme. Once again, it was a thing of beauty. The Palace Theatre Museum opened in 1987. A grand opening was held on October 8, 1989. Although the museum artifacts are still housed in the theatre, the museum is no longer updated and open for regular business.
The Palace is owned by the City of Luverne and is managed by the volunteer Blue Mound Area Theatre Board of Directors. This partnership began in 2002. The Legacy Campaign was organized in 2006. During this time, the building was remodeled with new seats on the main floor, a new rigging and lighting system, the addition of a ticket booth and handicap accessible restrooms, an enlarged concession area, and the encapsulation of the asbestos fire curtain.
In 2007, the improvements were completed just in time for the world premiere of Ken Burn's documentary film, "The War," which featured Luverne as one of four communities in the film to illustrate the effects of war not only on the soldiers but on the communities they left behind.
Bank Nite returned to the Palace in 2011. Thanks to Papik Motors and First Farmers and Merchants Bank, a FREE family movie night was organized and is now shown on the first Thursday of every month at 6 p.m. The evening features a cash drawing, just as it was done in the 1930s, when the free movie night was known as "Bank Nite", sponsored by the local banks.
The Palace installed a new, state—of-the-art, digital projector in 2013 with funding coming from a $70,000 Go Digital or Go Dark campaign.
2015 was a busy year of events called a "Centennial Celebration". To celebrate the Palace Theatre's 100th birthday, one big event or show was scheduled each month with the other weekends filled with movies.
Due to the coronavirus (Covid-19) pandemic, the Palace Theatre was temporarily closed in 2020 and that closure lasted until 2021. While events took awhile to get back to "normal", we're back in full force now with most weekends filled with events and activities.
The theatre is run by volunteers with the Blue Mound Area Theatre Board of Directors and owned by the City of Luverne. We currently have only 2 paid staff members- a part-time executive director and a part-time box office associate. Lorie Line, Tonic Sol-Fa, Deuces Wild! Dueling Pianos, Ken Burns, and local acts such as the Green Earth Players, Spotlight Dance and Luverne Street Music are only a few of the performers that have recently graced the Palace stage.
The Historic Palace Theatre building has contributed significantly to the history of culture on the prairies of Southwest Minnesota since 1915. We're proud to continue this tradition with ongoing events and activities. We hope you will stop by for a visit or an event soon!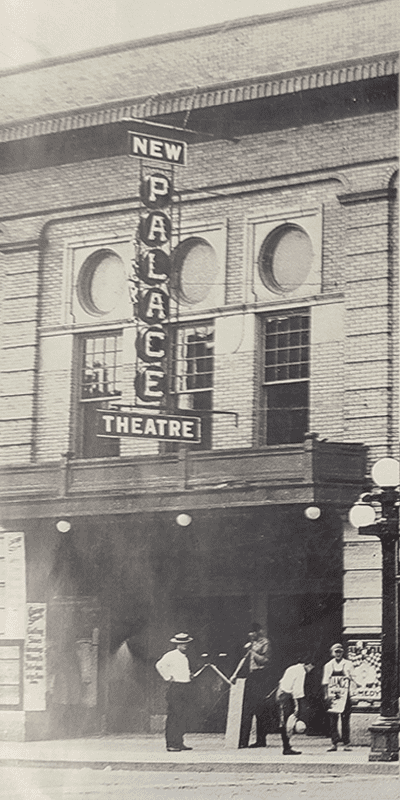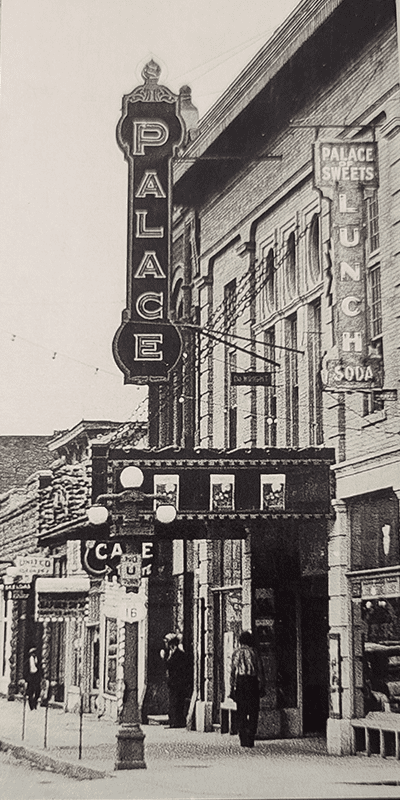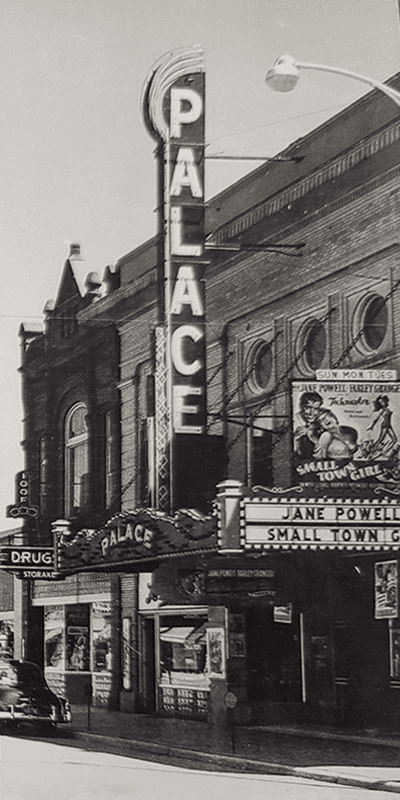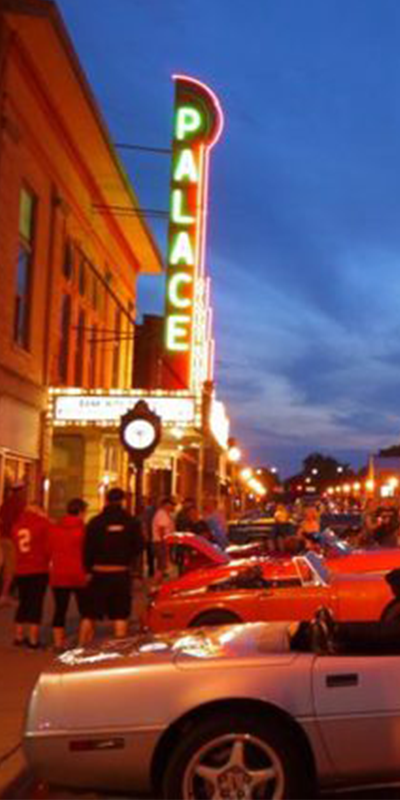 Palace Timeline
1915
Opening Night was September 29, 1915
1st production– "The Princess of Tonight" cost $3,000 and train cars delivered scenery.
Herman Jochims opened the new Palace Theatre with building costs in excess of $50,000. It included 352 seats downstairs, 286 balcony, and 4 box seats, 8 dressing rooms, orchestra pit, full ballroom upstairs (dance hall measured 48 x 61 feet and ceiling was 16 feet high).
East corner of the building was Le Bon Marche Music Store and West was Palace Confectionery (owned by Fred Gimm then Jacob Ohlsen)
Jonas Brothers Orchestra leased the ballroom for 1 year
1916
Dance Hall taken over by Palace Hall Club with 50 members
New management of ballroom– Herbert & Ohlsen
Spencer Orchestra played ($1 for dancers, free for spectators)
Charlie Chaplin movie- "Behind the Screen"
Billie Burke– 8 reels of "Gloria's Romance"
Season tickets sold for "Lyceum Course"
1917
Fire in the confectionery and heavy smoke damage throughout
Wrestling match– Oscar Nelson (Estherville) vs. J.E. Jones (Luverne)
Soprano, Elizabeth Spenser sang and compared her sound to the Edison phonograph
1918
Speaker, Private Somme on Horrors of WWI
Dance given by Adolph Moen, Pat Ryan and Frank Kennedy for funds for Rock County drafted men
Lyceum concert series continued
1919
Concert featuring the Luverne High School Glee Club
"The Million Dollar Band" just back from France
1920-1923
Welsh singers, Luther College Band, Lyceum course closed
Movies- "The Four Horsemen of Apocalypse", "The Star Rover"
Luverne Band Concert, Old Time Norwegian Dance
Palace grocery (East of theater)
1924
Fire in the Millenery Shop, Song Shop & Beauty Shop (East of Palace) with $13,000 damage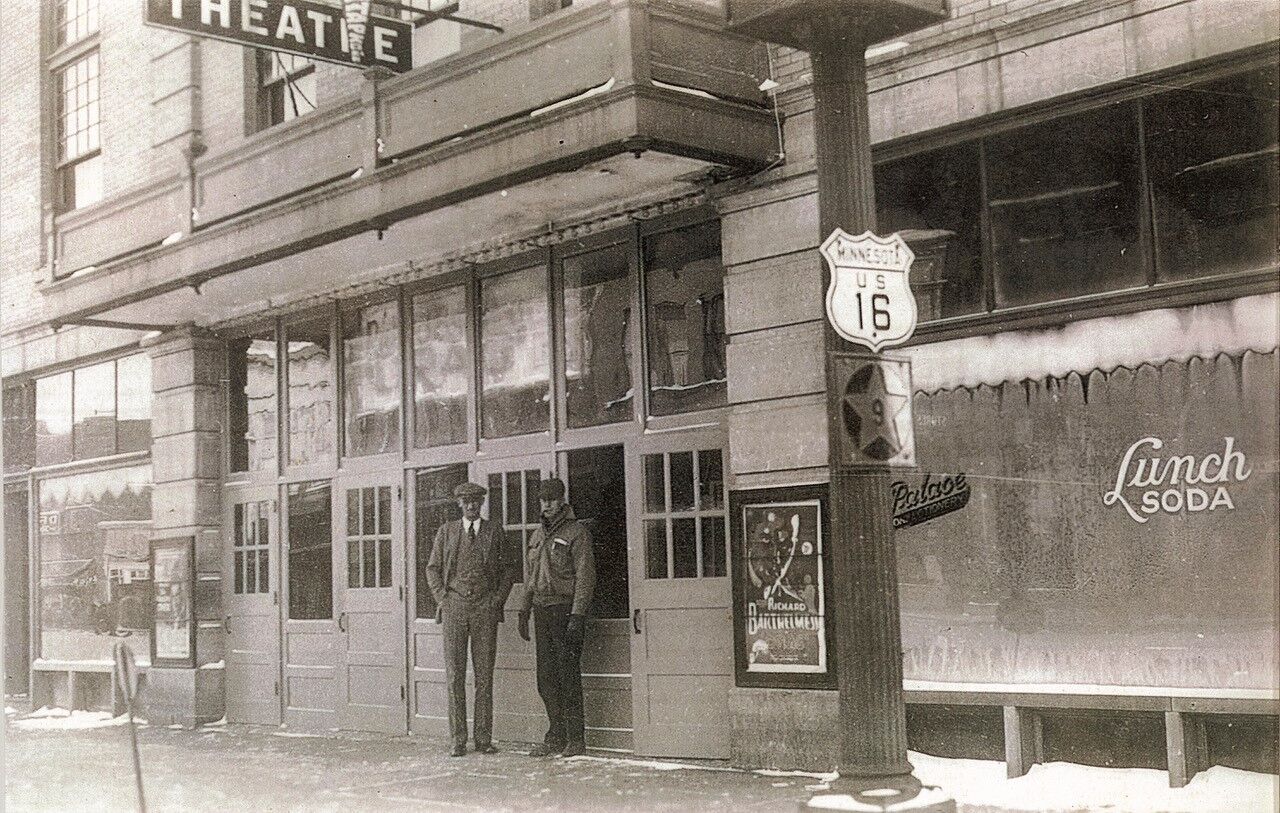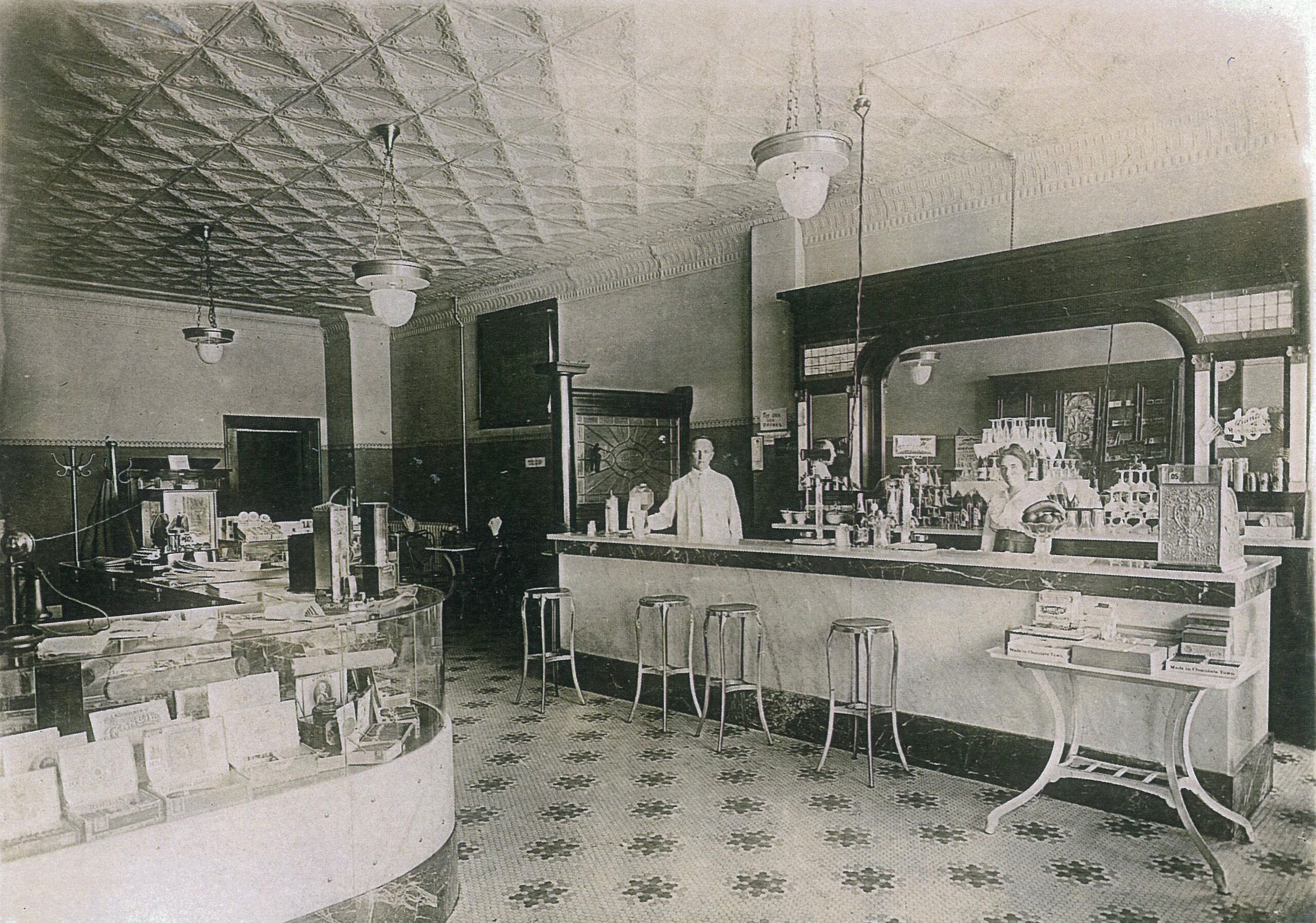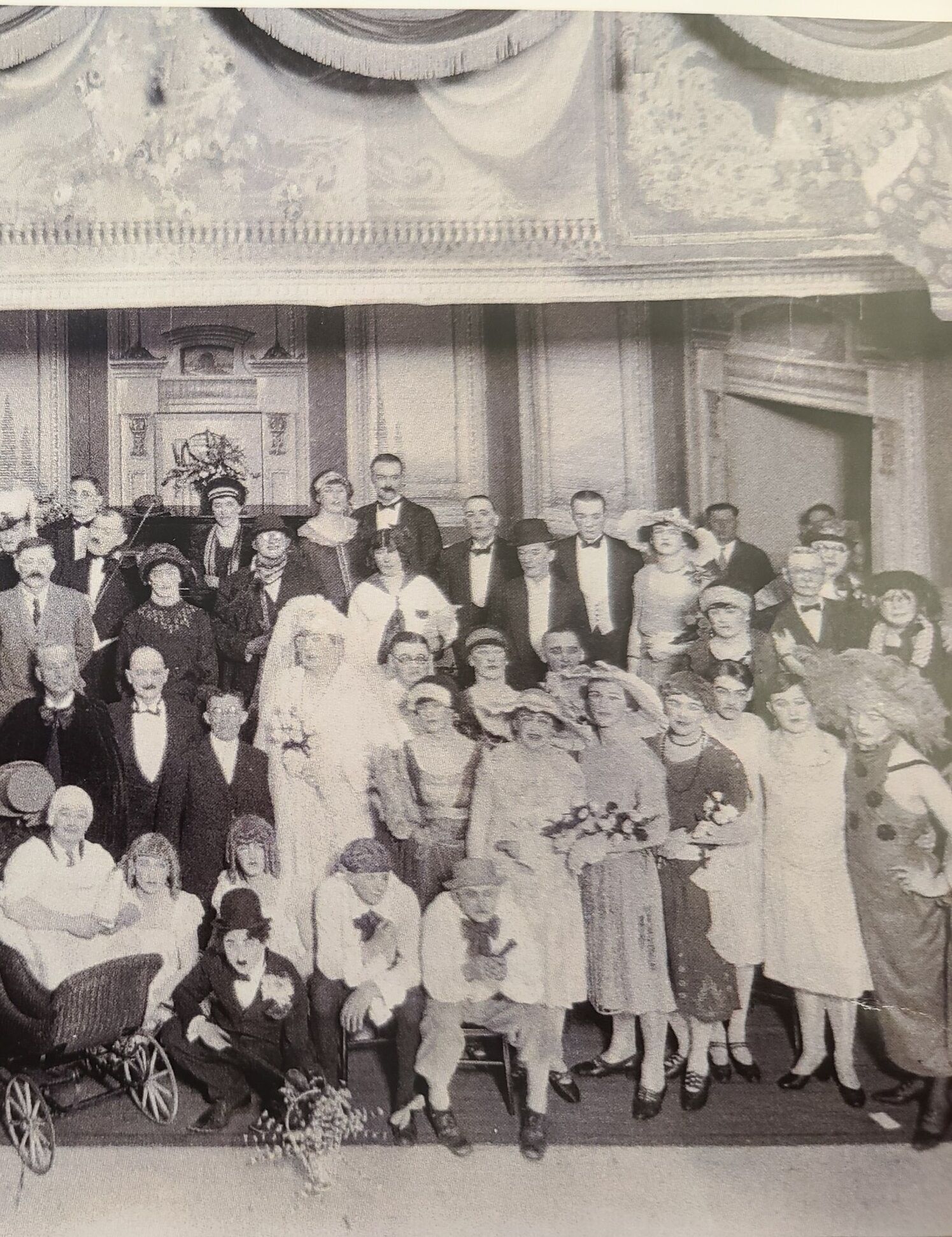 1926
Ballroom closed due to the decline of dancers (armory built in 1922)
Ceiling was lowered and apartment and offices built in ballroom
State of the Art Smith-Geneva Organ was purchased for $10,000 and Maude played the organ before and after shows (still in use today, is 1 of only 5 known left in U.S., the only one in original location)
1929
1st talking picture- "The Jazz Singer" with Al Jolson
Crowds were so big on Bank Nites they had to have 3 shows
1931
New marquee installed (the one that looks like bubbles)
1935
Air conditioning installed
Closed for 8 days for remodeling
1939
Palace closed for 2 weeks to allow employees to take vacations
New marquee installed (the one currently in place)
1945
Closed for 8 weeks for redecorating in the Art Deco style
1946
Installed new sound system
1949
Maude Jochims passed away
1951
Herman married Marion Wheatly Daley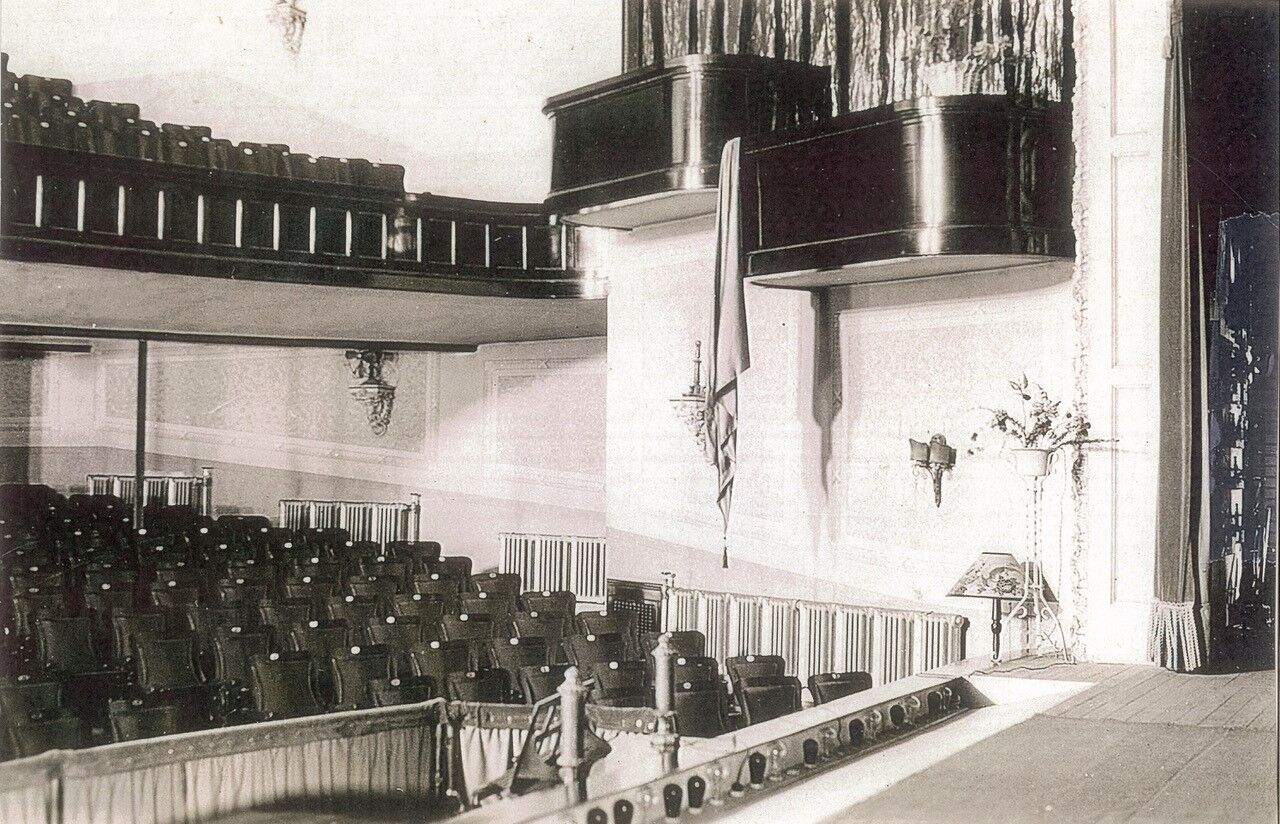 1959
Herman Jochims passed away
1968
Marion Jochims sells theatre to Jim Herreid
1971
Blue Mound Area Theatre Corporation was formed
1978
Palace was placed on the National Register of Historic Places
1980
Blue Mound Area Theatre, Inc. organized and took ownership
Green Earth Players had their first performance at the Palace "A Marriage Proposal"
1983
Palace closes temporarily (July) to find a new manager (open Aug)
Seats were re-upholstered with red fabric
1984
Larry and Carlene Boll leased the Palace, incorporated Palace Video and in 1992, moved this business across the street
1986
"Christmas at the Palace" began with church choirs
194 balcony seats were re-upholstered in green velvet
1987
Received the original blueprints for the Palace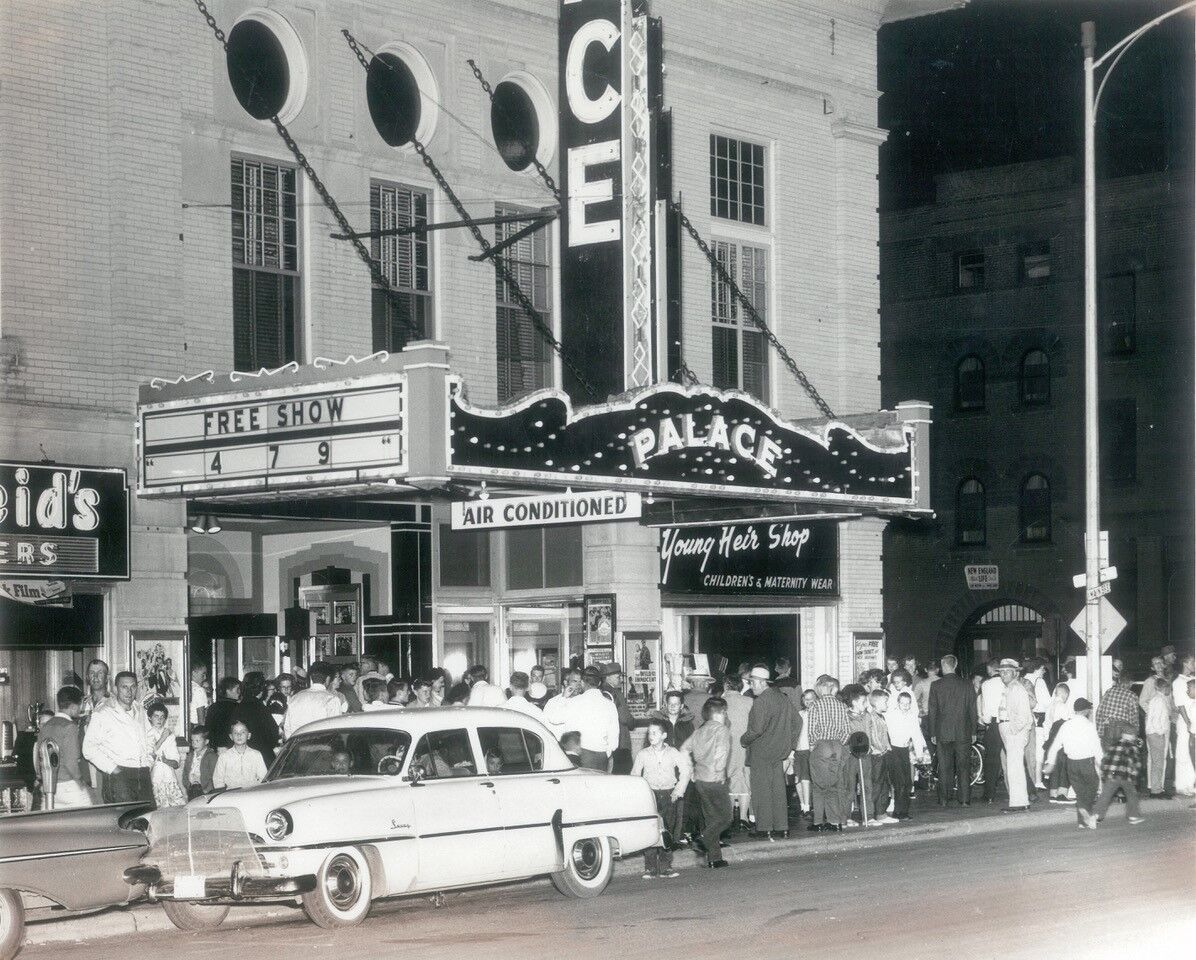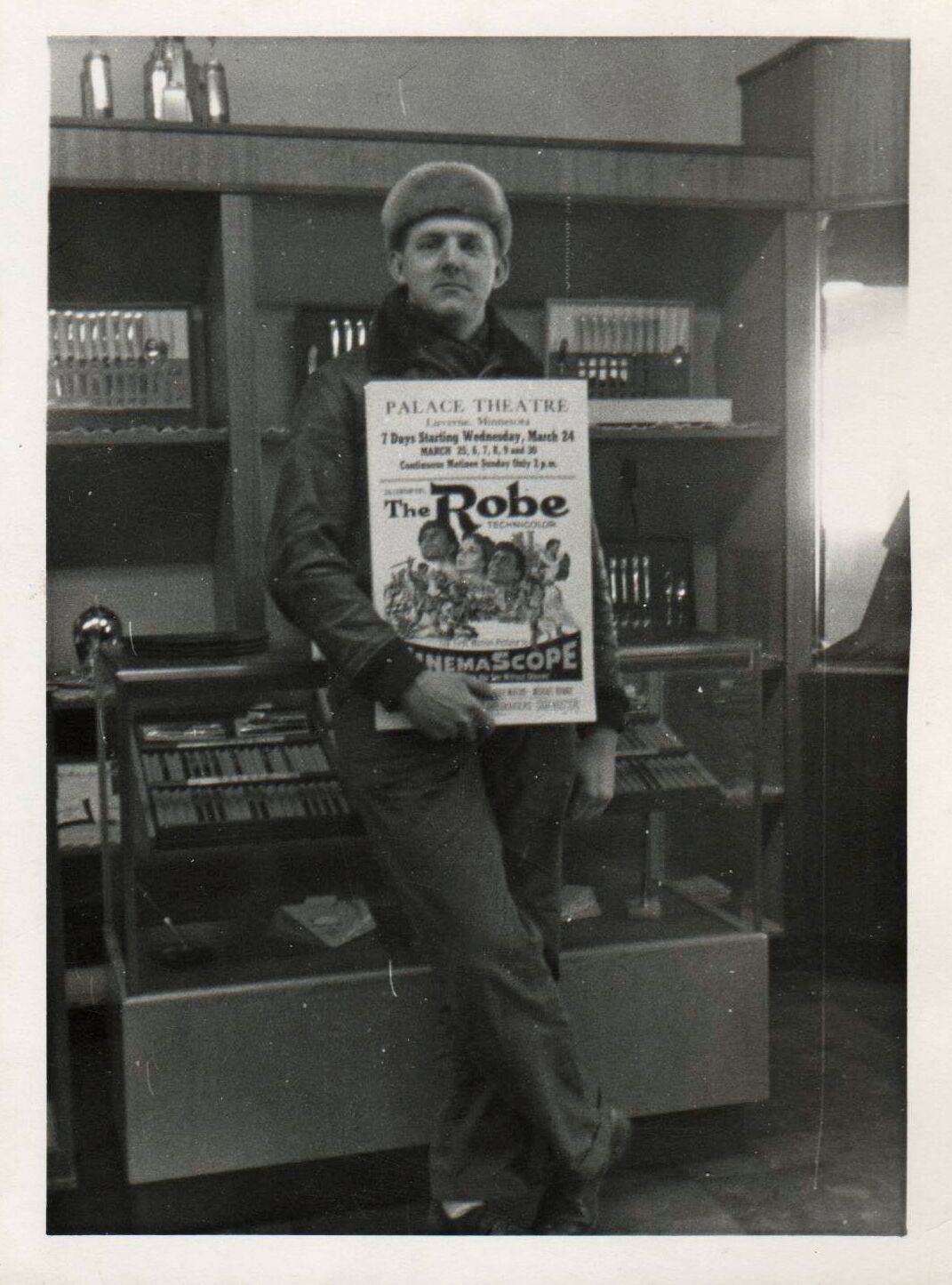 1988
1989
the Palace Museum opened by the BMAT Board of Directors
1990
Palace organ was played in concert for the 1st time since 1949
BMAT purchased exclusive rights of Van Weston prints of Palace
1992
Charlie & Katie Walhof started a show titled, "Blue Mound Opry"
New platter projector system was installed
1993
Larry and Carlene Boll gave up lease to Mike DeBates
1995
Bonnie Holmied Jordahl wrote and published a book titled "Herman's Palace"
2001
BMAT Board of Directors sold the theater to Jeremy Esser
2005
2006
The Legacy Campaign raised money for remodeling– new seats on main floor, replaced rigging and lighting system, added ticket booth and handicap accessible restroom in lobby, enlarged concession area, encapsulated asbestos fire curtain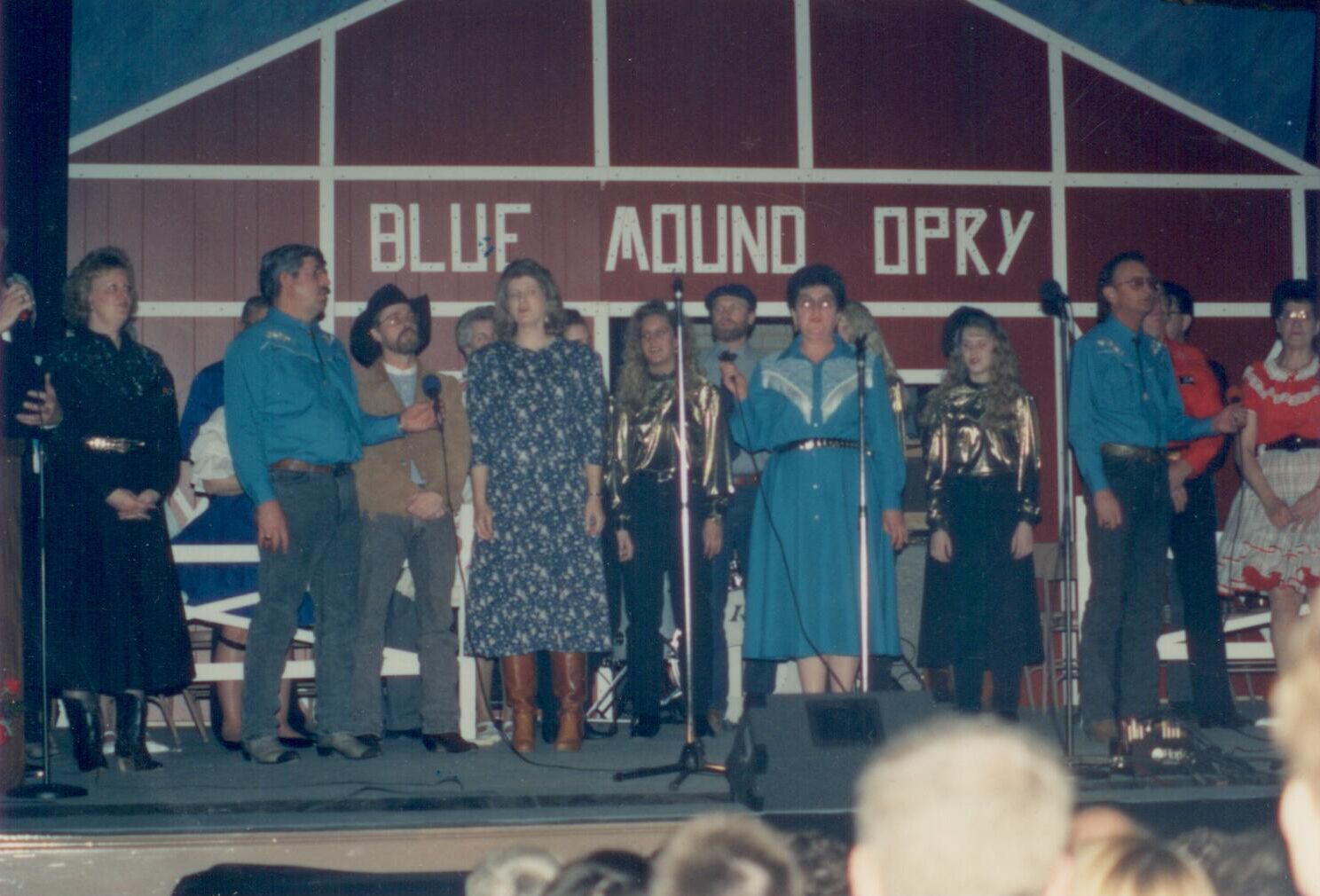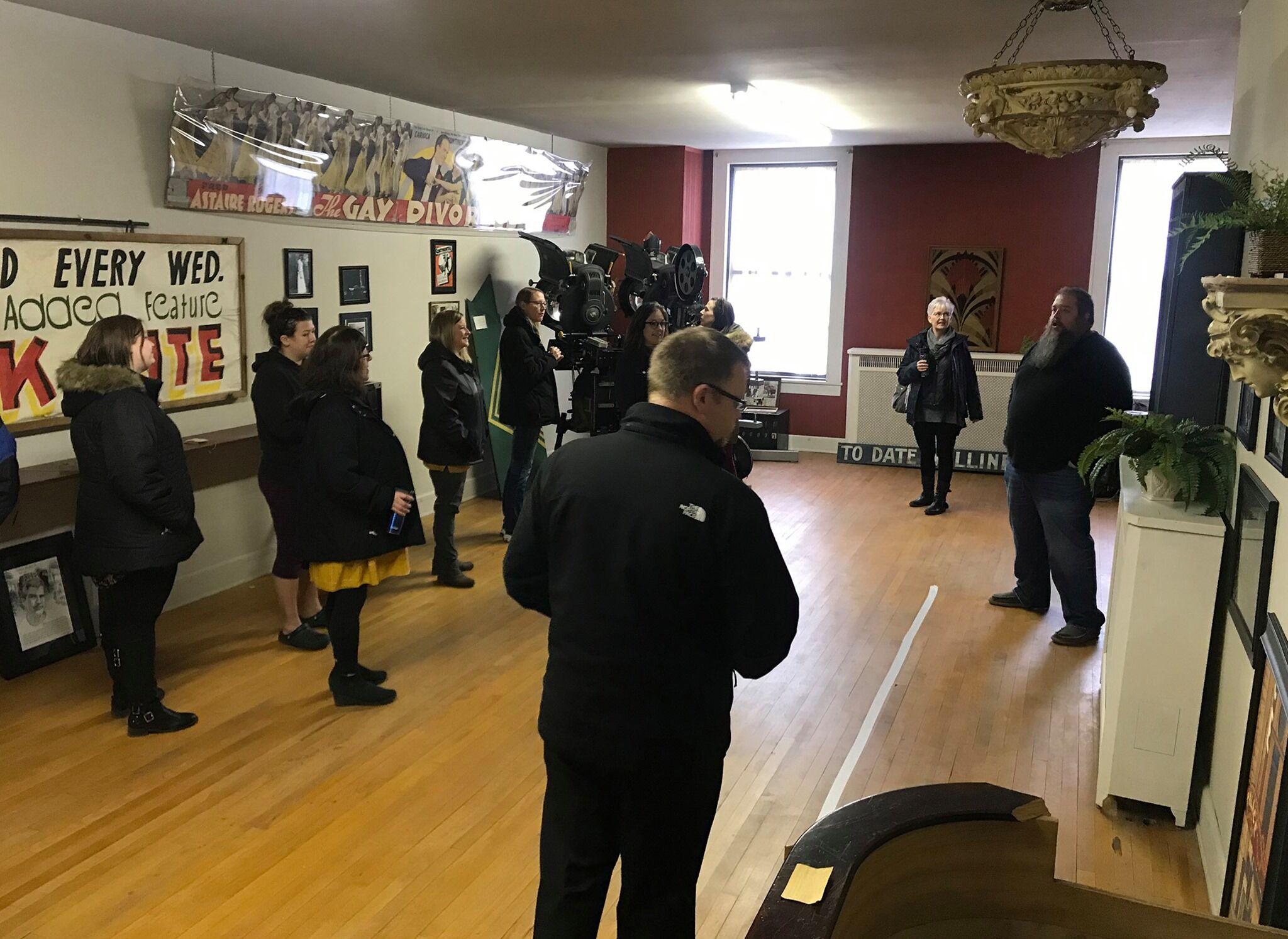 2007
Midwest Premier of "The War" with Ken Burns. This was a huge affair with major media coverage, dignitaries, and special guests including Ken Burns and Quentin Aanenson.
2011
Bank Nite returned to the Palace. A free, family-friendly movie is shown on the 1st Thursday of each month and concludes with a cash drawing as it was done in the 1930's.
2013
"Go Digital or Go Dark" campaign to raise over $70,000 for a new digital projector. The new projector arrived and was installed in October.
2014
A pipe broke in the upstairs of the Palace and caused major water damage to Reborn Home Furnishings, which occupied the NW corner office space. Reborn relocated. The space was renovated and the Luverne Area Community Foundation moved in.
2015
100 years of the Palace Theatre! Year-long Centennial Celebration with events nearly every weekend– from nationally known performers and first run movies to local favorites and community activities. It was a busy and momentous year.
2016
A new Palace logo was created. The box office moved from space in the Luverne Area Community Foundation office on the corner to a newly renovated space to the East of the Palace.
2019
New cup holders were installed and booster seats were purchased. Shawn Kinsinger was hired as part-time theatre manager. Security cameras were installed on the exterior of the building.
2020
The Palace was closed for over a year due to the Covid-19 (Coronavirus) pandemic.
2021
The Palace held its first event- the movie "Godzilla vs. Kong" in April after being closed for almost a whole year due to Covid-19.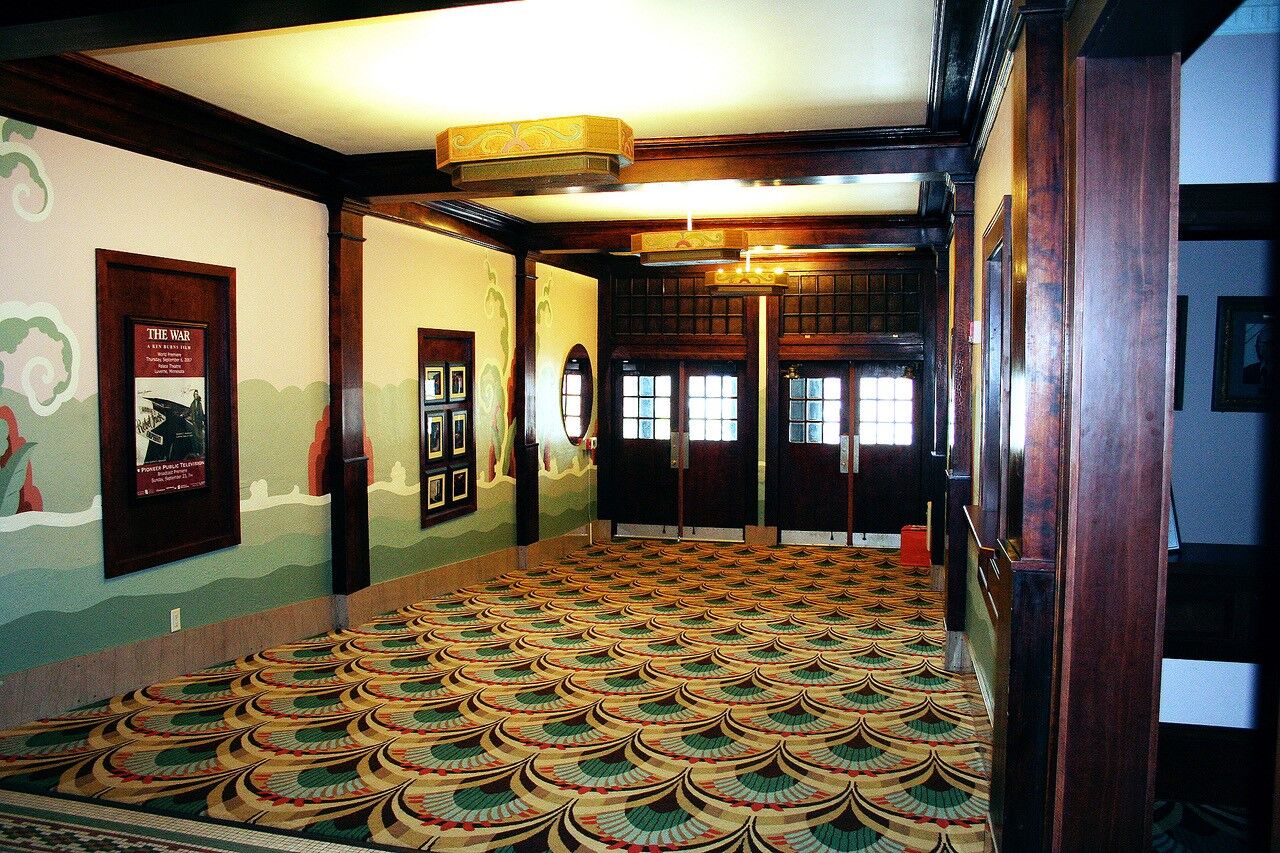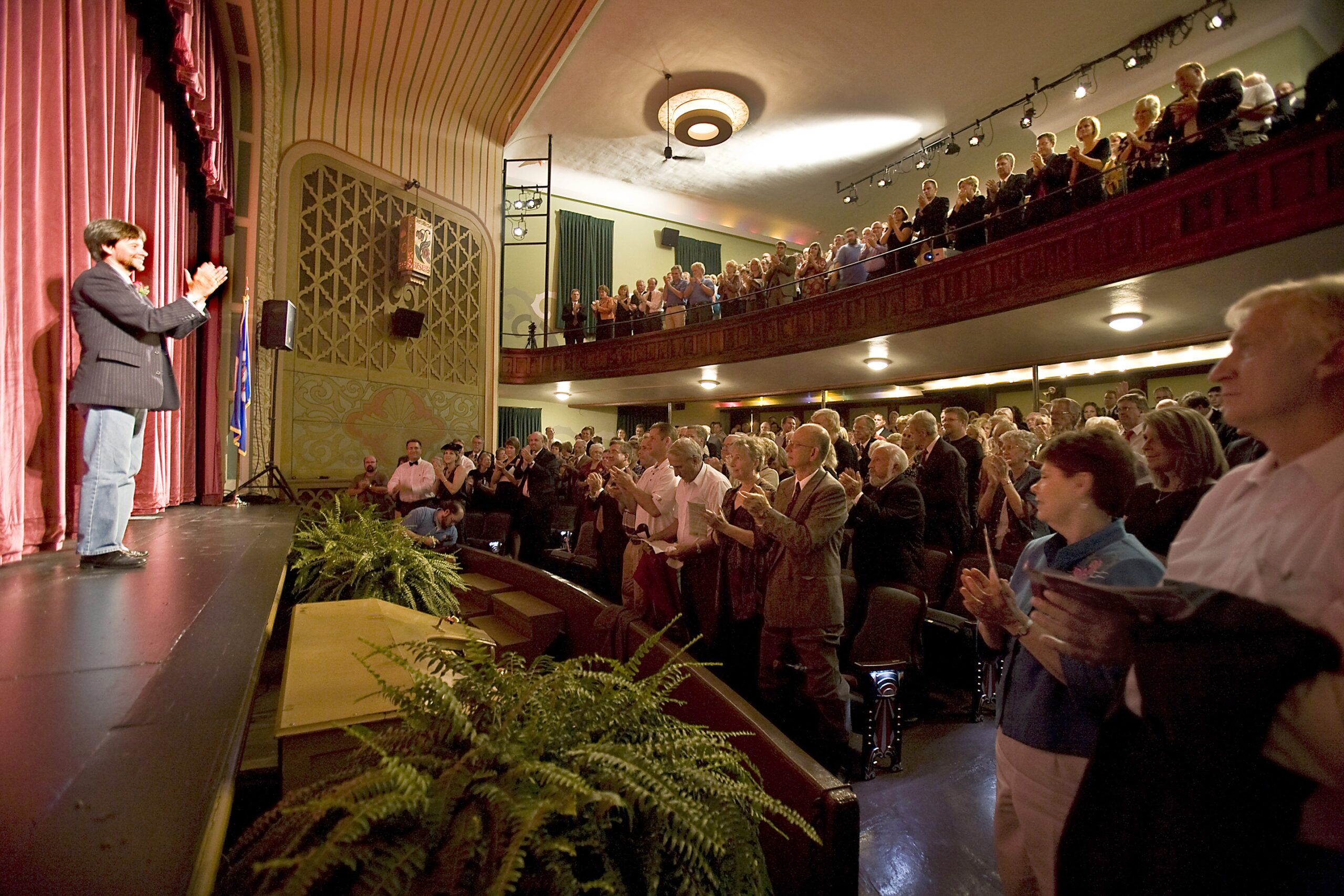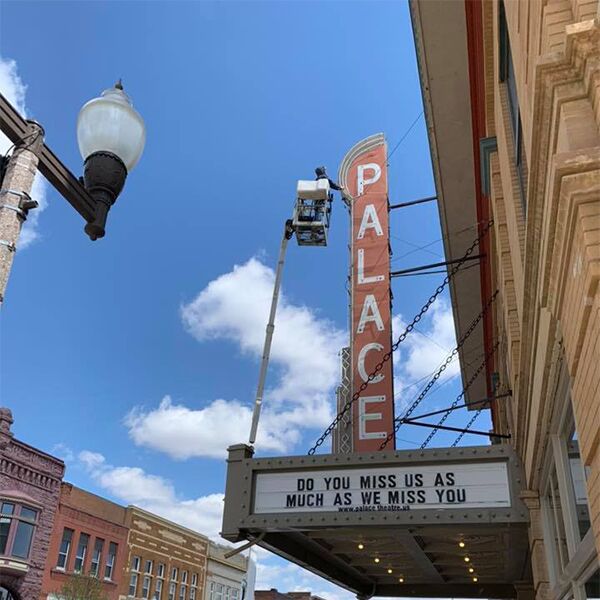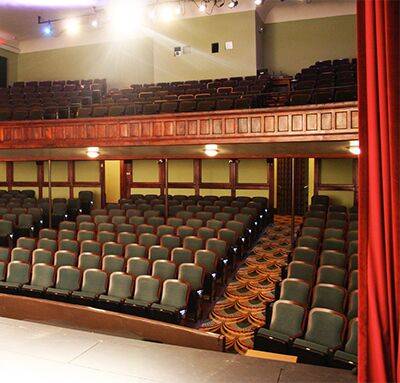 104 East Main Street, Luverne, MN 56031